Maybe you've seen this quip floating around Facebook: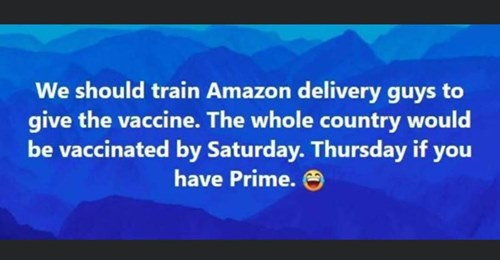 It's funny and may even end up containing an element of truth. Amazon recently offered up its infrastructure, operations and tech to the Biden administration to improve the COVID-19 vaccine rollout.
An even better (and more realistic) idea? Leverage health plans, their provider networks, member engagement and data.
Major Missing Link
Health insurers have been left out of the coronavirus vaccine rollout, which is causing unnecessary and even deadly delays in distribution, prioritization and vaccination rates.
Under Operation Warp Speed, the CDC and each state government/public health department have largely started from scratch to:
Build distribution
Prioritize vaccine recipients, especially beyond healthcare workers and nursing home residents
Reach and register citizens with a time and place to receive the vaccine
Recruit, train and place qualified health care workers who can administer the vaccine
Track who has received one and both doses
Health Plans Begin Activating
That's already changing.
We are working with a provider organization to tap claims data using our Analytics for Risk Contracting software to help COVID-19 vaccine prioritization and compliance tracking. We are in talks with a large health plan and a health system to launch similar efforts.
After all, insurers already have all the information needed: Who and where their members are, how old they are, what underlying diseases they have, their employers, their residence and who their providers are. Plus, they have all of their contact information.
The vast majority of Americans, at 92% according to the US Census Bureau, are covered by commercial insurance, Medicare and/or Medicaid managed care.
Health plans have financial resources and data analytics they can tap to prioritize, notify, educate, persuade and even financially incentivize members to get vaccinated. Not only is the government covering the costs of COVID-19 vaccinations for their members and all Americans, but health plans have extra funds because provider reimbursements are way down along with non-COVID-19 care utilization.
To accelerate and facilitate the coronavirus vaccinations, and especially to achieve the goal of 100 million in 100 days, the new administration and Americans would benefit enormously by leveraging existing data and infrastructure. That begins with partnering with health plans and leveraging existing infrastructure.
If you'd like to learn more about leveraging Analytics for Risk Contracting (ARC) data to facilitate vaccinations, please contact info@copehealthsolutions.com