An innovative workforce development and training partnership with COPE Health Solutions' COPE Health Scholars enabled Kaiser Permanente to quickly fill critical staffing gaps at several medical centers during the pandemic. Kaiser Permanente Irvine Medical Center, Kaiser Permanente Anaheim Medical Center and Kaiser Permanente Orange County hospitals tapped this unique solution to supplement depleted staff in areas from materials management and supply chain to nursing units for patient rounding and responding to patient call lights.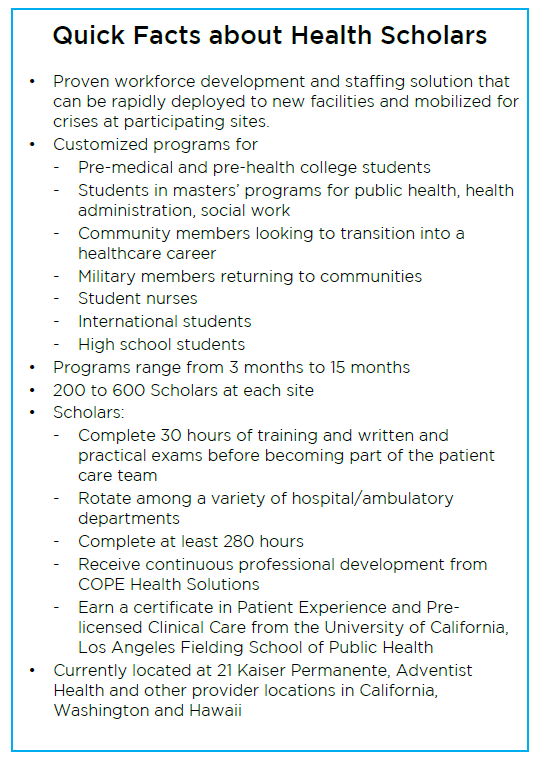 Kaiser Permanente was able to create much-needed surge capacity with COPE Health Scholars, aspiring health care professionals who are able to gain unparalleled in-person experience and learning at the Kaiser facilities through the COPE Health Scholars experiential education courses. While learning and creating their roadmap to a health care career, Health Scholars are able to provide valuable support to patients, clinicians and administrators.Launched in 2000, COPE Health Scholars graduates about 4,500 students a year from courses that include experiential education sites at most health systems in California, Washington and Hawaii. There are more than 45,000 alumni who have completed the program, many of whom are working in health care jobs across the country.
Rapid Redeployment
When the pandemic hit, the Kaiser Permanente hospitals were able to quickly redeploy their current class of COPE Health Scholars and access COPE Health Solutions' wider pool of COPE Health Scholar students from other sites as well as alumni. The benefit of COPE Health Scholars in an emergency is that they are already badged, background-checked and trained to function as part of a health system or medical group team, both in patient care and non-patient care areas. COPE Health Scholars speak more than 40+ languages, including more than 45 percent who speak native Spanish.
"COPE Health Scholars has helped to ensure our readiness to meet the needs of our patients and community," said Wendy Cortez, MSN, RN, NPD-BC, Director of Nursing for Kaiser Permanente Irvine.
Flexible and Able
Early in the pandemic, COPE Health Scholars helped at command centers and in supply chain and materials management for Kaiser Permanente in Orange County and Irvine so employees could focus on patient care for COVID-19 patients. COPE Health Scholars:
Created and posted in-hospital signage with COVID-19 information
Delivered supplies throughout the hospital, allowing staff to focus on other tasks
Transported lab specimens for processing
Distributed timely communications updates to all departments
When the administrative staff at Kaiser Permanente Anaheim Medical Center was heavily impacted by COVID-19, COPE Health Scholars stepped in to answer phones, round on patients, respond to patient call lights and handle requests from staff, patients and visitors.
At Kaiser Permanent Irvine Medical Center, the materials management staff was especially hard-hit by COVID-19 just as they received a large shipment of personal protective equipment (PPE) and supplies that needed to be distributed as soon as possible. The facility shifted some COPE Health Scholars from inpatient units to materials management in order to:
Load supplies into bins and boxes in preparation for delivery to departments
Deliver PPE and other critical supplies
Take inventory of items needing resupply at each unit
Maintain a consistent stock of PPE for each unit
Handle supply orders called in by the command center
Leveraging this adaptable and willing workforce has delivered major benefits to both COPE Health Scholars and the health care facility partners. By taking on these responsibilities, COPE Health Scholars are gaining valuable experience while making important contributions to the fight against COVID-19. In parallel, Kaiser Permanente is able to bring to bear much-needed support and relief to their hard-pressed physicians, nurses, other clinicians and staff, both those who have fallen ill and those who have been caring tirelessly for COVID-19 and non-COVID patients alike.
For more information, please contact info@copehealthsolutions.com.