Is the new Medicare Direct Contracting Geographic (Geo) model from the Centers for Medicare and Medicaid Services (CMS) a fit for your organization? As the anticipated April 2 deadline for the Geo application approaches, it's important to understand how Geo compares to other risk-contracting models and evaluate your readiness for pursuing that option.
What is Geo?
The geographic, or Geo, model is the latest and most advanced Medicare Direct Contracting option. It is a population-based payment (PBP) model that offers Direct Contracting Entities (DCEs) the opportunity to assume risk for the total cost of care for Medicare fee-for-service (FFS) beneficiaries in a defined target region. DCEs will engage in value-based payment arrangements with providers in the region that choose to be in the DCE network.
The primary difference between Geo and the previously announced Global and Professional Medicare Direct Contracting options is that Geo DCEs will take financial risk for a subset of the Medicare beneficiaries in a defined geographic region, ensuring that every beneficiary is aligned to a DCE. This more complex model borrows elements of Medicare Advantage by establishing a capitated accountable body between CMS and providers in a region. The Geo DCE will have a new role of overseeing other risk-bearing bodies within its network, including legacy ACO models and Professional DCEs.
The Geo DCE also is responsible for bidding on a discount with CMS, with the goal of generating savings in excess of that threshold and beyond that generated by other ACOs within the network. As a result, the Geo Model offers significant risk/reward potential.

Assessing Geo Readiness
Your ability to execute against the three C's of calculate, coordinate and compete is a good way to gauge gaps in knowledge, capabilities or community collaborations and how prepared you are to succeed under the Geo model.
Calculate Risk/Reward
Applicants are required to bid on the CMS discount factor. This discount factor is the amount that CMS will take off the top as payment for program administration.
The key to a successful bid is building solid, data-based estimates for risk and potential savings that don't overexpose the DCE.
Conduct a market analysis and competitive analysis
Tap all available data to conduct population health analytics and actuarial analysis to ensure well-informed savings/loss calculations for the bid and ongoing management
Take stock of market realities on patient referral patterns, leakage and naturally occurring networks.
Understand value-based payment contracting and population health management maturity of your market, including past performance of market ACOs and other similar entities
Use regional intelligence to understand likely attribution to your DCE against competitor DCEs
Coordinate Community Care Model
Effectively managing the health and care of Medicare beneficiaries depends on being embedded in the care delivery of that geographic market. Geo DCEs will need to not only support providers with whom they directly contracted but collaborate with others in the region that share significant overlaps in patient utilization. It will require building both new contracts and non-contractual collaborative relationships to enhance coordination and collective performance.
Division of responsibility will be key, with clear definitions of roles and responsibility for provision of specific services such as data analytics and report cards, complex care management and network management.
Identify and coordinate with community providers, ACOs, and other conveners to establish collaborative relationships to support a community care model
Support the provider network in its transition to risk by providing actionable data and facilitating opportunities for better care coordination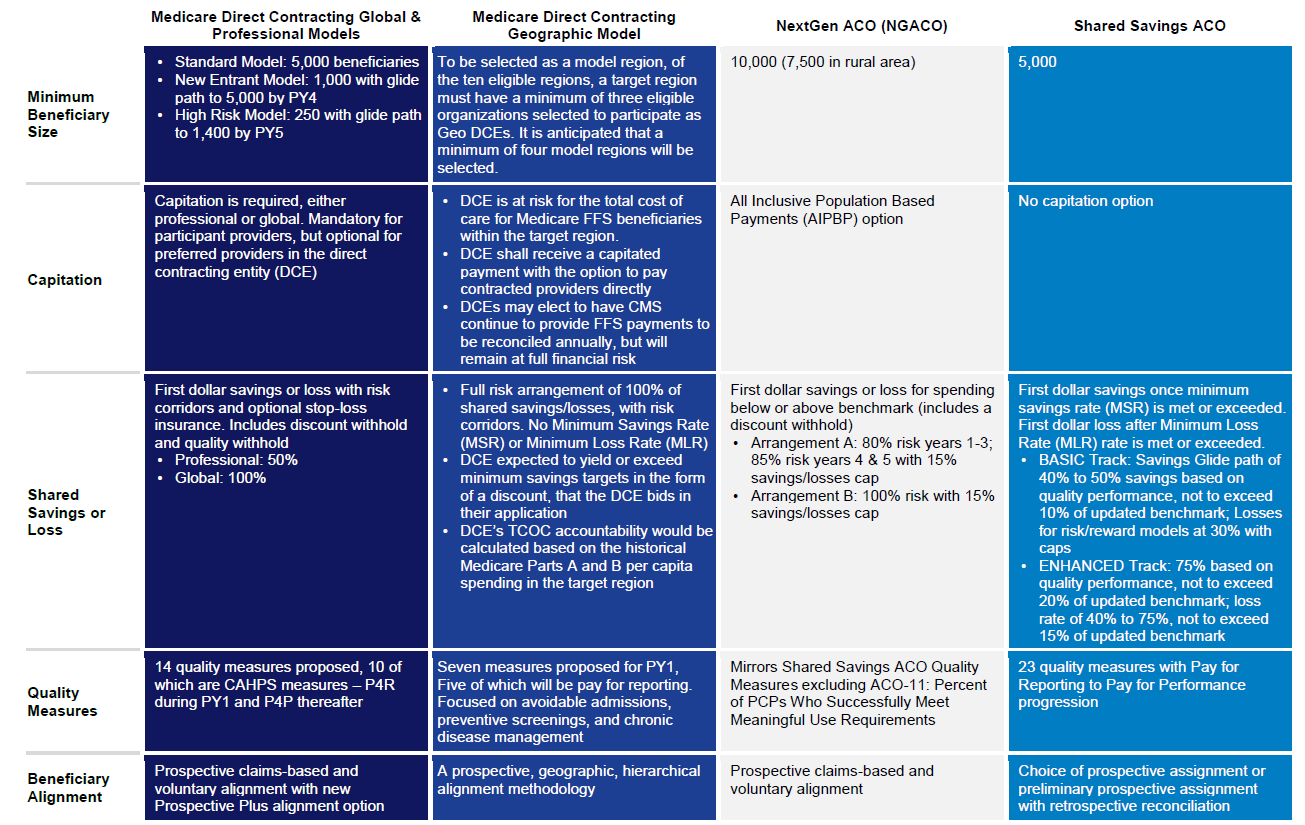 Compete Against Other DCEs and Health Plans
A pillar for success is making care with you more attractive than other options for Medicare beneficiaries. All selected Geo markets will have at least three DCEs in addition to other health plan products. There are no beneficiary restrictions, so you'll need to maximize available incentives and benefit design flexibilities to attract and retain beneficiaries to your network.
Consider establishing a formal beneficiary engagement function to oversee programs that provide beneficiaries with health education, information on navigating the network, and support understanding benefits
Empower providers with information and ensure they have a positive experience with the DCE so they can become good ambassadors of the DCE's available benefits
Ensure network primary care physicians understand the specific value proposition the Geo provides to their practice, including available financial incentives, shared savings opportunities, and beneficiary benefits to improve CAHPS scores and increase patient retention
Of course, applicants assessing the Geo MDC model need to consider their overall value-based strategy and core competencies in evaluating readiness for this program. For a comparison of Geo with other Medicare ACO models, see the accompanying table.
We've also prepared a fact sheet to the GEO model with more details, including eligible regions and other key dates.
For more information on exploring Medicare Direct Contracting, please contact Shanah Tirado at stirado@copehealthsolutions.com or 213-369-7415 or Allen Miller at amiller@copehealthsolutions.com or 310-386-5812.