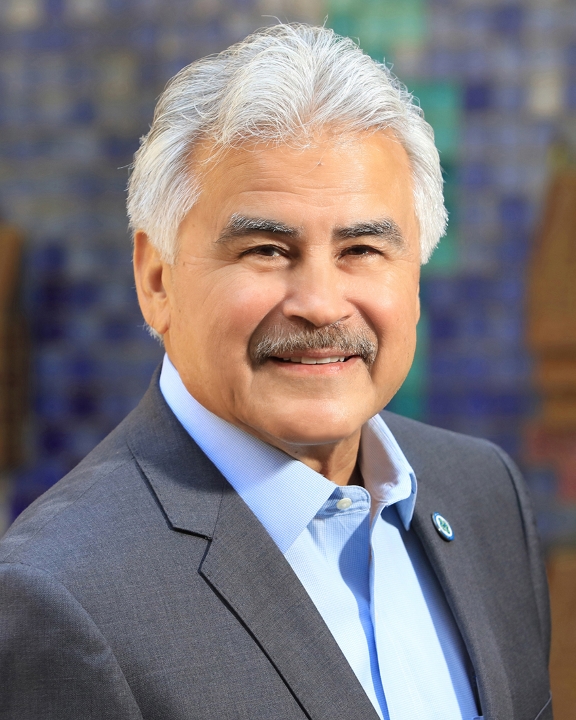 Pete Delgado is President/CEO of Salinas Valley Memorial Healthcare System, where he is responsible for directing the leadership and operations of an integrated network of health care programs, services and facilities. The Healthcare System encompasses an acute care public district hospital licensed for 263 beds, 12 urgent care clinics, a group of primary care and specialty physician practices with 135 practitioners and joint venture ownership of Aspire Health Plan. Salinas Valley Memorial Healthcare System employs more than 2,400 people and its medical staff includes 331 board-certified physicians.
During his tenure at Salinas Valley Memorial Healthcare System, Mr. Delgado has expanded access to care, greatly increasing the services available to all members of the community regardless of their ability to pay. Mr. Delgado is passionate about patient safety, quality clinical outcomes, exceptional patient experience, and partnering with patients and their families to achieve an improved quality of life. This dedication to quality has been recognized by national hospital quality organizations such as Healthgrades, Leapfrog, and The Joint Commission.
Mr. Delgado was a founding member of the National Forum for Latino Healthcare Executives (NFLHE) – a national organization increasing the representation of Latinos at the executive level of hospitals across the country. Mr. Delgado has held board positions on the Hospital Association of Southern California, California Health Care Safety Net Institute, California Association of Public Hospitals and Health Systems, and currently California's District Hospital Leadership Forum and California Association of Hospitals and Health Systems (CAHHS). The Hispanic Business magazine recognized Delgado as one of the Top 100 Influential People of 2009.
As a seasoned healthcare executive, Mr. Delgado has served in various leadership positions throughout his career, including Chief Executive Officer for the Los Angeles County + University of Southern California (LAC+USC) Healthcare Network; Executive Vice President and Chief Operating Officer for Christus Santa Rosa, a five Hospital Catholic Healthcare System; Chief Executive Officer for Valley Regional Medical Center (Columbia), a for profit Hospital; Chief Executive Officer for Kaiser Health Plan Hospitals in Northern California, managing 160,000 Kaiser Permanente members thru a network of two Kaiser Permanente Hospitals and 250 physicians.
Mr. Delgado received his Master of Science in Hospital Administration from Texas Women's University, Houston, Texas, and his Bachelor of Science in Healthcare Administration from University of Houston/CLC, Houston, Texas. He has also participated in two senior executive programs at Stanford University and Harvard University respectively.
Mr. Delgado serves on the Board of Directors of Rancho Cielo, and is actively involved in the Central Coast community. He is the father of four children and has been married to his wife, Martha, since 1986.